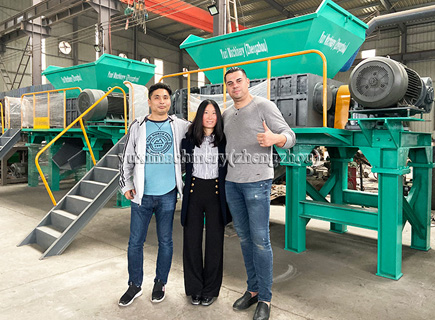 The aluminum can shredder is mainly composed of a shredder b
The mini aluminum can shredder is mainly composed of a shredder blade set, a carrying case, a box bracket, a feeding system, a power system, and an electrical control system. It is mainly used to shred light and thin metal with a certain st
---
Tel/whatsapp/wechat: +86-13674998188 (24 hours online)
send e-mail zhengzhouyuxi@yuximachine.com
Chat Online
Leave Message
The aluminum can shredder is mainly composed of a shredder blade set, a carrying case, a box bracket, a feeding system, a power system, and an electrical control system. It is mainly used to shred light and thin metal with a certain strength, increasing its bulk density for transportation and recycling.
The advantage of aluminum can shredder is not only to save energy, improve efficiency, but also to recycle waste to reduce pollution in emerging industries. The crushed materials are separated from metal and non-metal by air cyclone sorting system.
In addition, the entire system is equipped with a dust removal device to reduce the dust pollution hazard generated during the production process.
The equipment mainly has the advantages of high output, low energy consumption, high efficiency, uniform discharge and fineness. And when using the aluminum can shredder, the noise is low, no pollution, and the operation is simple and convenient.
It can be easily stored and transported by shredding large materials, and the aluminum can shredder can be used with a variety of environmentally friendly equipment. More commonly, it is used in conjunction with metal crusher equipment, which can greatly reduce investment costs and break Work is more efficient.

Recent Customers' Projects
More>>
Maintenance tips
1

The equipment should be lubricated according to requirements, and you should pay attention to the oil temperature, oil pressure, flow rate and other parameters.

2

When excessive noise or vibration occurs during the operation, the equipment should be shut down and inspected quickly.

3

Pay attention to the product quality and productivity, in order to solve the problem as soon as we find it.
Service Support
1000 engineers will always provide service for your project
More YUXI® Mobile Crushers you may interest
Contact us
Thank you for your interest in YUXI Heavy Industry. If you want to learn more about our Crushers and Industrial grinding mills, Contact us Now to find out what we can do for you next project !
Copyright © 2004-2021 by yuxi-shredder Yuxi Machinery Equipment(zhengzhou) Co.,Ltd All rights reserved