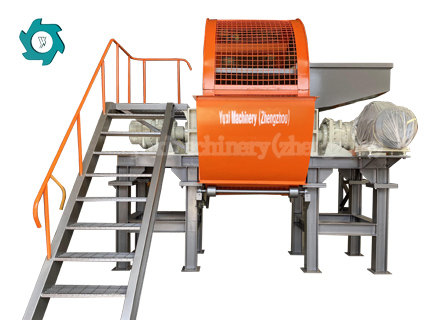 Waste Tire Shredder
Raw Material Raw material: Final product: Machine detail ► Shredding Blade - The moving bade material is made of special alloy tool steel forging banks, precision machining, multiple heat treatments and low temperature freezing heat treat
---
Tel/whatsapp/wechat: +86-15638198676 (24 hours online)
send email: yuximachine01@gmail.com
Chat Online
Leave Message
Working Principle
---

On the working principle of the tire shredding machine adopts direct high torque with low speed rotation of the spindle motor design, after biaxial tear the waste tyre to pieces, through the Angle of blade to discharge the broken materials.
Under the action of roller screen implementation in the broken size less than or equal to 50 * 50 material leakage from the screen, enter the follow-up process; larger than 50*50mm finished products are returned to the crushing chamber to re-crush until the size of the rubber blocks meets the requirements and then the discharge.
Raw Material&Final Product
---
Raw material:


All kinds of tires: Normal Car Tires, Truck Tires, OTR Tires, Engineering Car Tires.

Final product:
The tire shredder can crush the waste tire into 50-80mm rubber blocks.
Machine detail
---
►YUXI brand double shaft shredder machine is new designed especially for shredding various big solid materials, unmanageable materials, plastic containers and barrel, waste tire, scrap metal, fiber and solid waste which the normal crusher can not handle.
►We are a true manufacturer in Zhengzhou City, professional can design new models as your special requests.

►The internal gear of the planetary reducer adopts 20CrMnTi carburizing and quenching and has the characteristics of small volume, lightweight, high bearing capacity, long service life, stable operation, low noise, large output torque, large speed ratio, high efficiency, and safety performance.
►It has the characteristics of power splitting and multi-tooth meshing.

►The bade material is made of special alloy tool steel forging banks, precision machining, multiple heat treatments and low temperature freezing heat treatment technology.
►The overall toughness of hardness can be used repeatedly.
- Customized according to clients raw-materials thickness and finished Product Size
- SKD11 high alloy steel material
- Strong impact resistance
- Good toughness and surface hardness
- 100% ultrasonic nondestructive inspection
Customer cases


Darameters
---
| | | | | | | |
| --- | --- | --- | --- | --- | --- | --- |
| Model | Power(kw) | Capacity | Product size | Hopper size | Weight | Dimension |
| YXS-600 | 15*2KW | 2-3T/H | 3-10CM | 0.82*0.9M | 2.5T | 2.6*2*1.9M |
| YXS-800 | 22*2KW | 3-5T/H | 3-10CM | 0.9*1.0M | 3.6T | 2.8*2*1.9M |
| YXS-1000 | 37*2KW | 5-8T/H | 3-10 CM | 1.2*1.0M | 5.7T | 3*2*1.9M |
| YXS-1200 | 45*2KW | 6-10T/H | 3-10CM | 1.4*1.0M | 9.5T | 3.2*2*1.9M |
| YXS-1400 | 55*2KW | 8-12T/H | 3-10CM | 2.0*2.0M | 18T | 4.3*2*2.4M |
| YXS-1600 | 75*2KW | 12-18T/H | 3-10CM | 2.3*2.0M | 24T | 5*3*2.4M |
| YXS-2000 | 90*2KW | 16-22T/H | 3-10CM | 2.3*2.0M | 35T | 6*3.5*2.4M |
| YXS-2200 | 132*2KW | 20-26T/H | 3-10CM | 2.5*1.8 | 62T | 7*4*4.5m |
| YXS-2600 | 160*2KW | 25-60T/H | 3-10CM | 3.2*2.0 | 85T | 8.2*4*4.3m |
Please leave a message for your requirements, the machine can be customized for you.

Recent Customers' Projects
More>>
Maintenance tips
1

The equipment should be lubricated according to requirements, and you should pay attention to the oil temperature, oil pressure, flow rate and other parameters.

2

When excessive noise or vibration occurs during the operation, the equipment should be shut down and inspected quickly.

3

Pay attention to the product quality and productivity, in order to solve the problem as soon as we find it.
Service Support
1000 engineers will always provide service for your project
More YUXI® machine you may interest
Contact us
Thank you for your interest in YUXI Heavy Industry. If you want to learn more about our Crushers and Industrial grinding mills, Contact us Now to find out what we can do for you next project !
Copyright © 2004-2021 by yuxi-shredder Yuxi Machinery Equipment(zhengzhou) Co.,Ltd All rights reserved