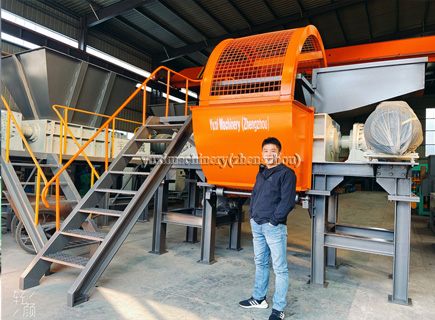 Waste tire manufacturing reclaimed rubber
Recycled rubber refers to the physical and chemical processes of waste rubber after pulverization, heating, mechanical treatment, etc., and its elastic state becomes rubber which is plastic and viscous and can be re-vulcanized. Zhengzhou Yu
---
Tel/whatsapp/wechat: +86-13674998188 (24 hours online)
send e-mail zhengzhouyuxi@yuximachine.com
Chat Online
Leave Message
Recycled rubber refers to the physical and chemical processes of waste rubber after pulverization, heating, mechanical treatment, etc., and its elastic state becomes rubber which is plastic and viscous and can be re-vulcanized.
Zhengzhou Yuxi Machinery Equipment Co., Ltd. is a professional manufacturer specialized in the production of waste recycling lines and various recycling machines.
Our company introduces the scientific management mode of modern enterprises, which is capable of manufacturing, forging ahead, pioneering and innovating, and rapidly emerging into the domestic machinery industry. An original company.
Our machines mainly include tire recycling plant and tire shredder and corresponding various single machines. We also produce waste metal shredder and metal recycling lines, garbage recycling lines, plastic recycling lines, PCB recycling lines and aluminum plastic recycling lines.
Yuxi Machinery tire shredder, using cutting tool for shearing, tearing, squeezing working principle process the material, crushing different solid waste, and good effect for hard and soft materials.
This tyre shredder adopts low speed, big torque design, has high shear force, good effect shredding effect, low noise, stable, etc feature.
Yuxi Machinery also produces the entire production line for tyre recycling machine, namely the tire recycling plant.

Recent Customers' Projects
More>>
Maintenance tips
1

The equipment should be lubricated according to requirements, and you should pay attention to the oil temperature, oil pressure, flow rate and other parameters.

2

When excessive noise or vibration occurs during the operation, the equipment should be shut down and inspected quickly.

3

Pay attention to the product quality and productivity, in order to solve the problem as soon as we find it.
Service Support
1000 engineers will always provide service for your project
More YUXI® Mobile Crushers you may interest
Contact us
Thank you for your interest in YUXI Heavy Industry. If you want to learn more about our Crushers and Industrial grinding mills, Contact us Now to find out what we can do for you next project !
Copyright © 2004-2021 by yuxi-shredder Yuxi Machinery Equipment(zhengzhou) Co.,Ltd All rights reserved