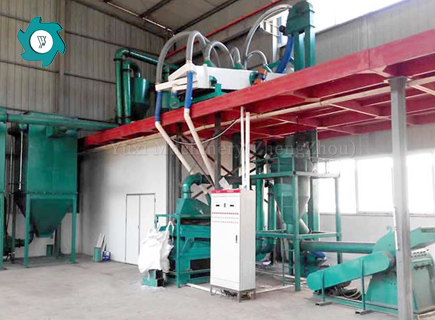 Waste Lithium Battery Recycling Equipment
Battery torn by conveyor to the primary shredding machine, torn material through the conveyor into secondary multiple blade crusher in the second crushing, the secondary crushing of material into the conveyor at the same time and set in the
---
Tel/whatsapp/wechat: +86-15638198676 (24 hours online)
send email: yuximachine01@gmail.com
Chat Online
Leave Message
Product Description
Economic and efficient waste lithium battery separation recovery equipment

Product details:
Product Name

Waste lithium battery
recycling machine

Application

Waste lithium battery recycling

Production Capacity

0.2-1Tons / Hour

Over All Size

26311*6121-6350mm

Total Power

<129.25KW

Power

Three-phase alternating
current 380V/50HZ, 200KVA

Maximum Size of Waste Battery(mm)

600*600

Iron Recovery Reta(wt%)

99%

Copper Recovery Rate(wt%)

98%

Positive Negative Material
Recovery Rate

99%
Cobalt, lithium, copper and plastics in waste lithium batteries are valuable resources and have high recovery value. Therefore, the
scientific and effective treatment and disposal of the waste lithium battery not only has obvious environmental benefits, but also has good economic benefits.
Our waste lithium battery recycling equipment mainly uses the physical recycling method, supplemented by "three wastes" treatment
measures, has the characteristics of low carbon green, energy saving and environmental protection, no two pollution, and taking into
account the economic and environmental benefits, not only to achieve the use of the valuable components, and harmless disposal of
harmful ingredients.
The entire recovery process to achieve full automation, high recovery efficiency, high processing capacity, processing capacity of 500- 1000 kg per hour, annual processing volume reached 5000 tons, the valuable components of waste lithium battery recycling rate can be more than 90%.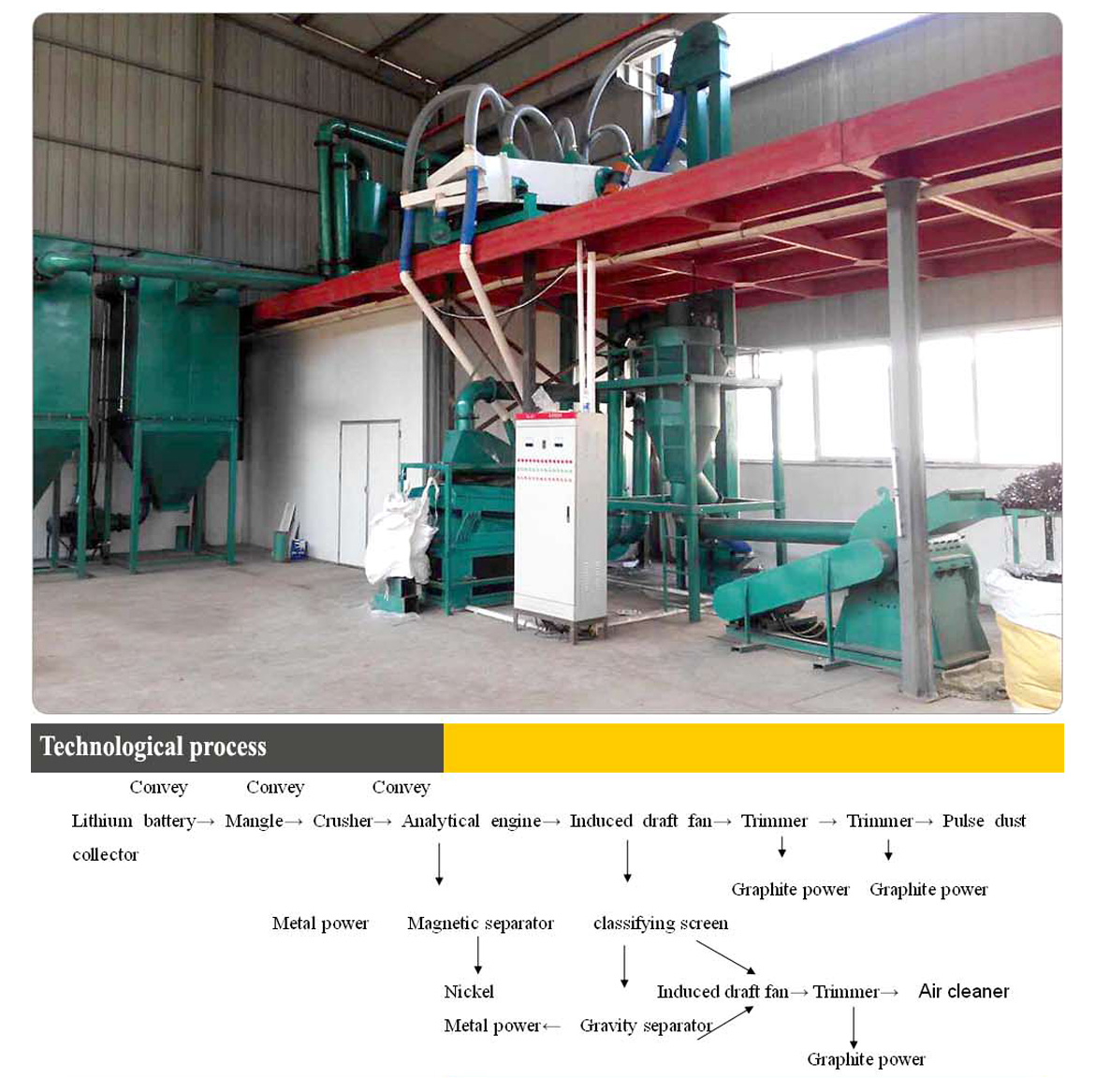 Flow Diagram
1.Rolling machine: Spent the lithium battery tearing up.
2. Crusher:
Completely break the batteries after rolling.
2.Grinder: Put the broken materials crushing.
3.Analytical engine: Shredded material separated in picces through air separation.
4.Induced draft fan: After the winnowing graphite powder are collected.
5.Trimmer: The dust emissions are collected through induced draft fan.
6.Pulse dust catcher(Air cleaner): Put the dust of whole equipment to purify.
7.Classifying screen: Sorting the filtered material by analyzing machine,picking out the big metal material.
8.Magnetic: Separate the nickel of metal.
9.Gravity separator: Specific gravity separated after sorting the material,separate metal thoroughly.

Recent Customers' Projects
More>>
Maintenance tips
1

The equipment should be lubricated according to requirements, and you should pay attention to the oil temperature, oil pressure, flow rate and other parameters.

2

When excessive noise or vibration occurs during the operation, the equipment should be shut down and inspected quickly.

3

Pay attention to the product quality and productivity, in order to solve the problem as soon as we find it.
Service Support
1000 engineers will always provide service for your project
More YUXI® machine you may interest
Contact us
Thank you for your interest in YUXI Heavy Industry. If you want to learn more about our equipment, Contact us Now to find out what we can do for you next project !
Copyright © 2004-2021 by yuxi-shredder Yuxi Machinery Equipment(zhengzhou) Co.,Ltd All rights reserved