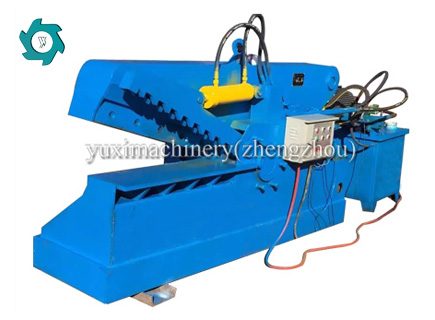 Crocodile Shear
Waste tire drawing machine structure is made of heavy duty steel to keep stablity. Consists of motor, hydaulic system, drawing hook, drawing device, etc. the drawing hook is driven by a hydaulic system, put the tire on the drawing mouth and jut the dr
---
Tel/whatsapp/wechat: +86-15638198676 (24 hours online)
send email: yuximachine01@gmail.com
Chat Online
Leave Message
We can provide the working sites of our customers' in various countries, please contact us if necessary.
Product Description
---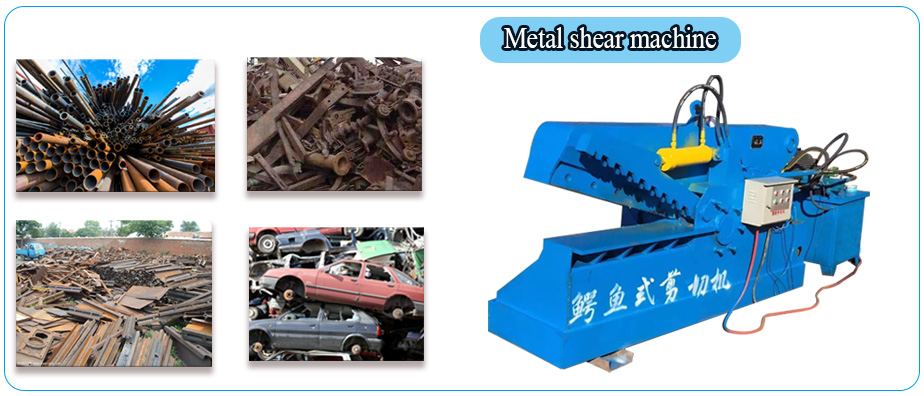 Crocodile scissors are suitable for metal recycling companies, scrap mills, and smelting foundry companies to cold cut various shapes of steel and various metal structures.
Features
---

♦

It is hydraulically driven, easy to operate and easy to maintain.
♦

Working knife length: 400mm, 600mm, 700mm, 800mm, 1000mm, 1200mm, the shearing force from 63 tons to 400 tons, a total of 8 grades. The shearing machine with a cutting edge of 700mm or more is especially suitable for cutting scrapped cars.
♦

There is no need to install the foot screw, and the diesel engine can be used as the power source.
♦

The equipment adopts hydraulic transmission. Compared with the mechanical transmission shearing machine, it has the advantages of small volume, lightweight, low inertia, low noise, stable movement, convenient operation, flexibility, large shear section and convenient adjustment of scissors. Operation is safe and easy to implement overload protection.
Parameter
---
Model

Shearing Force

ShearingSpeed(times/min)

Max.blade Opening

Blade Length

Power

Weight

Overall Dimension(mm)

YX-63

630KN

14-25

320MM

600MM

7.5KW

1800KG

2100×800×1550

YX-100

1000KN

14-25

320MM

600MM

7.5KW

2200KG

2100×800×1550

YX-125

1250KN

12-25

320MM

600MM

11KW

3200KG

2300×1000×1650

YX-160A

1600KN

11-25

340MM

600MM

15KW

3800KG

2600×1000×1800

YX-160B

1600KN

11-25

380MM

700MM

15KW

4000KG

2700×1000×1800

YX-200

1909KN

10-20

420MM

800MM

18.5KW

4800KG

2660×930×1680
Please leave a message for your requirements, the machine can be customized for you.

Recent Customers' Projects
More>>
Maintenance tips
1

The equipment should be lubricated according to requirements, and you should pay attention to the oil temperature, oil pressure, flow rate and other parameters.

2

When excessive noise or vibration occurs during the operation, the equipment should be shut down and inspected quickly.

3

Pay attention to the product quality and productivity, in order to solve the problem as soon as we find it.
Service Support
1000 engineers will always provide service for your project
More YUXI® machine you may interest
Contact us
Thank you for your interest in YUXI Heavy Industry. If you want to learn more about our equipment, Contact us Now to find out what we can do for you next project !
Copyright © 2004-2021 by yuxi-shredder Yuxi Machinery Equipment(zhengzhou) Co.,Ltd All rights reserved