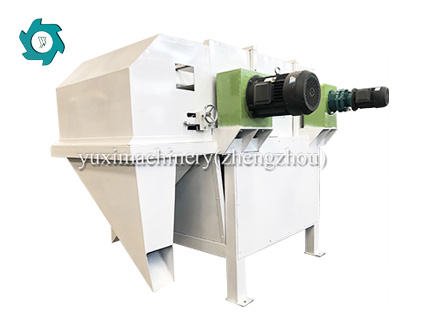 We can provide the working sites of our customers' in various countries, please contact us if necessary.
Introduction of Hot Sale Eddy Current Sorting Machine
---
The eddy current sorting machine is mainly used for recovering non-ferrous metals such as copper and aluminum from industrial waste and domestic waste.
Eddy current sorer can be widely used in environmental protection fields such as garbage disposal, recycling of used electrical appliances and materials processing in non-ferrous metal processing industries. Excellent sorting effect on a variety of non-ferrous metals, strong adaptability.

Working Principle of YUXI Eddy Current Sorting Machine
---
When the eddy current sorting machine is working, a high-frequency alternating magnetic field is generated on the surface of the sorting magnetic roller.
When the conductive non-ferrous metal passes through the magnetic field, an eddy current is induced in the non-ferrous metal, and the eddy current itself Producing a magnetic field opposite to the direction of the original magnetic field, non-ferrous metals (such as copper, aluminum, etc.) will leap forward in the direction of their transport due to the repulsive force of the magnetic field, achieving separation from other non-metallic materials for sorting purposes.
The main distinguishing criterion is the ratio of the conductivity and density of the material, and the material with a higher ratio is easier to separate than the material with a lower ratio.

Advantages of Commercial Used Eddy Current Sorting Machine
---
1. Adopt intelligent touch control cabinet system, variable frequency control, and run more smoothly and reliably;
2, Using PLC programmable control, one-button start, simple operation;
3. The magnetic roller adopts effective magnetic system protection to prevent the magnetic system from falling off during high-speed operation;
Technical Parameters
---
| Model | YX-400 | YX-600 | YX-1500 |
| --- | --- | --- | --- |
| Magnetic roller diameter(mm) | 300 | 300 | 300 |
| Magnetic roller speed(r/min) | 0-3000 | 0-3000 | 0-3000 |
| Belt width(mm) | 450 | 650 | 1550 |
| Capacity(t/h) | 2-4 | 4-6 | 8-16 |
| Power(kw) | 3+0.55 | 4+0.75 | 11+3.0 |
| Weight(kg) | 1000 | 1400 | 2600 |
| Dimension(mm) | 1885*1450*1150 | 2980*1883*1210 | 2980*2633*1210 |
Please leave a message for your requirements, the machine can be customized for you.

Recent Customers' Projects
More>>
Maintenance tips
1

The equipment should be lubricated according to requirements, and you should pay attention to the oil temperature, oil pressure, flow rate and other parameters.

2

When excessive noise or vibration occurs during the operation, the equipment should be shut down and inspected quickly.

3

Pay attention to the product quality and productivity, in order to solve the problem as soon as we find it.
Service Support
1000 engineers will always provide service for your project
More YUXI® machine you may interest
Contact us
Thank you for your interest in YUXI Heavy Industry. If you want to learn more about our equipment, Contact us Now to find out what we can do for you next project !
Copyright © 2004-2021 by yuxi-shredder Yuxi Machinery Equipment(zhengzhou) Co.,Ltd All rights reserved