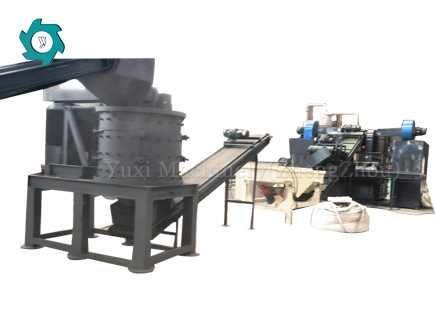 Waste Rotor Recycling Line
Working Principle Main equipment 1.Shredder 2.Crusher 3. Copper wire separator 4.Magnatic separator Raw MaterialFinal Product Raw Material All kinds of waste motor, rotors. Final Product Including the copper, aluminum, iron, plastic. Machin
---
Tel/whatsapp/wechat: +86-15638198676 (24 hours online)
send email: yuximachine01@gmail.com
Chat Online
Leave Message
Raw Material&Final Product
---
Raw Material


All kinds of waste motor, rotors.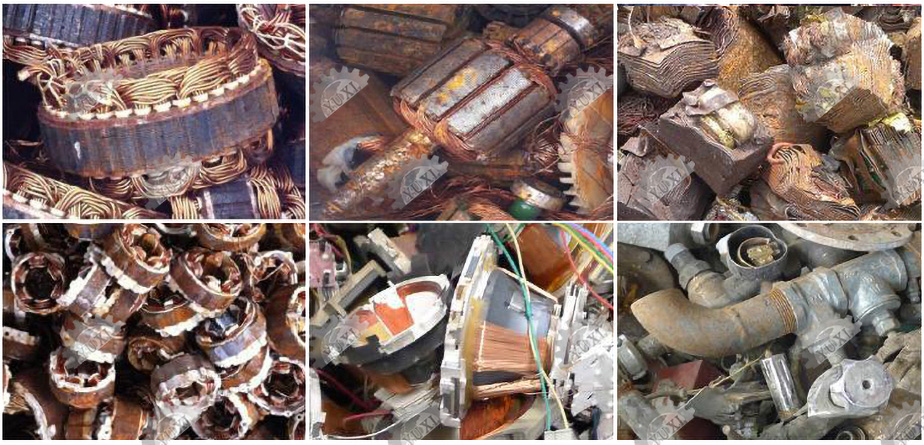 Final Product


Including the copper, aluminum, iron, plastic.

Machine Details
---

The rotor motor recycling line adopts the physical method to recycle the scrap motors, crushing the motor stator and rotor by the vertical hammer crusher, multi-layer multi-hammer head crushing and grinding, double times magnetic separator machine to get iron out which purity can reach 98%. Then by gravity separator process and vibration system for copper and plastic separation.
---

Control the size of the finished product by the speed of the machine and the density of the hammer.
---

Magnetic separator can separate the iron with magnetic properties in the mixed metal.
---

The use of two-pole specific gravity sorting improves the sorting accuracy, and the purity of copper, aluminum and iron is 99%.
---

The whole process uses a closed and configured dust collection system to effectively control dust spillage.
---
Features
♦

The sturdy body is provided with a thickened guard to ensure the stability of the crusher during high-temperature operation.
♦

The hammerhead of the crusher is made of a special tool steel special process, which has a wide range of crushing, and has the functions of breaking, breaking, crushing and the like, and the crushing granularity is small. It can be easily broken for different specifications.
♦

The magnetic separation equipment uses a magnetic separator with a strong magnetic double drum to make the sorting rate as high as 95% or more.


♦

The dust removal efficiency of the dust removal device is as high as 99.9%.
Working Principles
---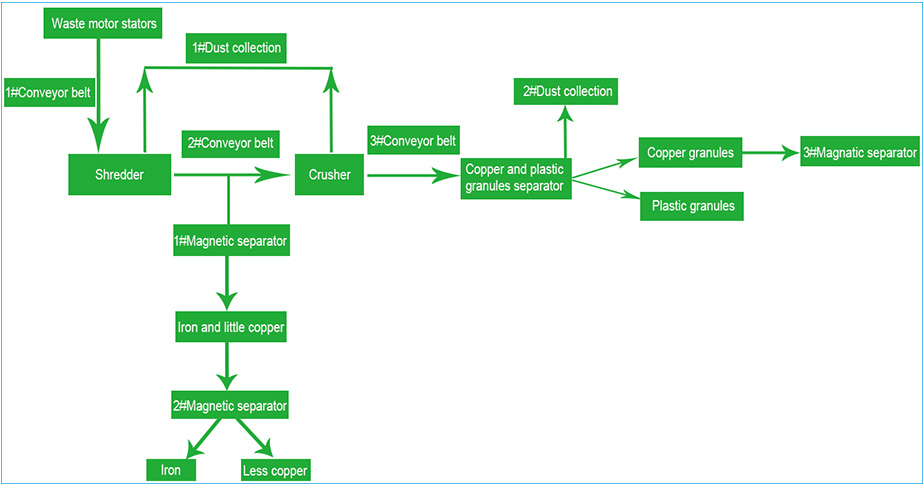 Main equipment
1.Shredder 2.Crusher 3. Copper wire separator 4.Magnatic separator

Please leave a message for your requirements, the machine can be customized for you.

Recent Customers' Projects
More>>
Maintenance tips
1

The equipment should be lubricated according to requirements, and you should pay attention to the oil temperature, oil pressure, flow rate and other parameters.

2

When excessive noise or vibration occurs during the operation, the equipment should be shut down and inspected quickly.

3

Pay attention to the product quality and productivity, in order to solve the problem as soon as we find it.
Service Support
1000 engineers will always provide service for your project
More YUXI® machine you may interest
Contact us
Thank you for your interest in YUXI Heavy Industry. If you want to learn more about our equipment, Contact us Now to find out what we can do for you next project !
Copyright © 2004-2021 by yuxi-shredder Yuxi Machinery Equipment(zhengzhou) Co.,Ltd All rights reserved