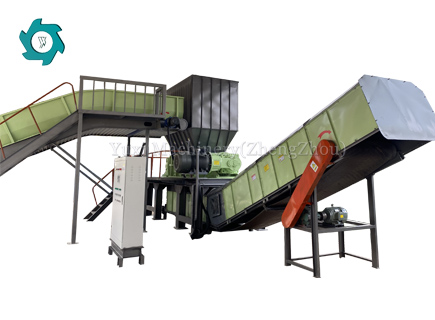 Double Shaft Coarse Crushing Machine
Rough crusher specially designed for processing all kinds of heavy junk, the crusher is mainly applied in the large living garbage broken, biomass material Broken, solid waste recycling precrushing and garbage power plant and crushing all ki
---
Tel/whatsapp/wechat: +86-15638198676 (24 hours online)
send email: yuximachine01@gmail.com
Chat Online
Leave Message
Double shaft rough crusher
Rough crusher using cutters to cut,tear,extruding each other, used for crushing all kinds of solid waste, have good blasting results of hard and soft material, often used in MSW (municipal solid waste) disposal of MSW pretreatment, resource recycling and waste incineration pretreatment, landfill, etc environmental protection.The device with low speed, high torque design, high shear force, tearing effect is good, low noise, good stability, etc.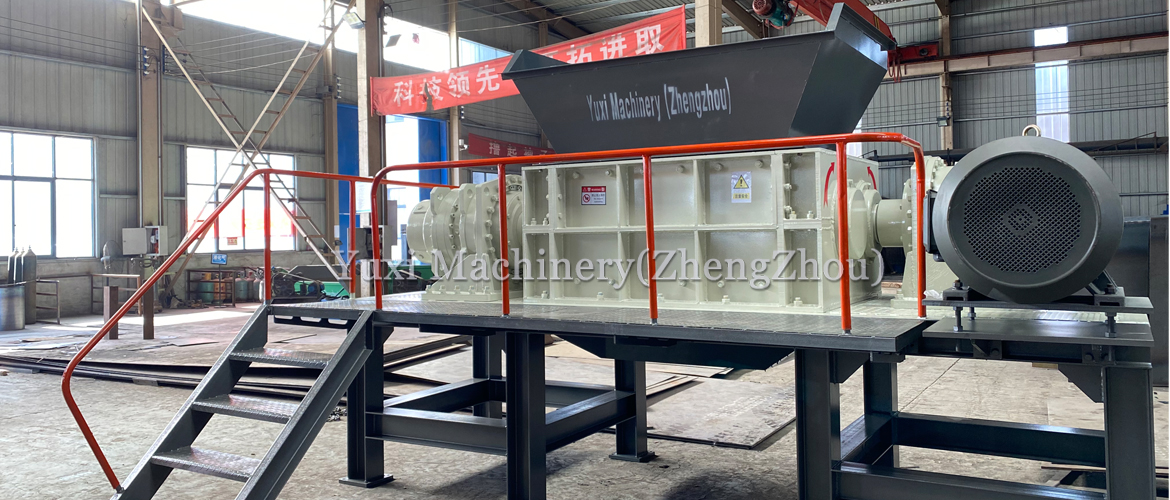 ---
Scope of application
●waste tires
●large pipes, pipe fittings
●forklift plate
aluminum alloy, motor shell, scrap aluminum parts
Less than 10 mm, thickness of copper and scrap steel and iron
Broken - mixing - field of refuse derived fuel pump system
Garbage burning area
Hazardous waste treatment plant system
Waste incineration power plants
Refuse derived fuel (RDF)
Pretreatment of biomass fuel

---
Comprehensive classification, recovery and recycling plant
Municipal solid waste treatment plant, injection molding, extrusion side of the foot,- PP, PE, PET, PC, ABS, nylon, etc.- PE, PP plastic pipe- film, woven bag- wire and cable
Wood + -Barrel class products: plastic, metal barrels, paint bucket, IBC barrel, trash can
Garbage: domestic waste, medical waste, the botanical garden rubbish
Plastic products: plastic bottles, plastic boxes, plastic pieces, plastic cans
Metal products: aluminum, oil filter, car shell, cans, metal cans
Paper: paper, cardboard, corrugated paper, copy paper
Electronic appliances: refrigerators, TV sets, washing machines, circuit boards, laptop shell, TV shell, CD
Glass products: glass cotton, glass, glass bottles

---
Product Advantage
The GEP intelligent patented technology, the realization of automatic lubrication, abnormal alarm, intelligent monitoring, intelligent protection system, reduces the failure rate, save the maintenance cost.
According to different types of solid waste, physical dimension, discharge requirements, material moisture, we can custom design crusher parameters, shape of cutting tool, and process, to achieve the best effect of crushing in crusher.
3, Environmental protection
Can provide customers with professional smart dust system, for all producing dust control, energy conservation and environmental protection;Design with low speed, large torque, low vibration, low noise, fully meet the environmental requirements.
PLC touch screen control, Siemens motor.Integral knife box, European imported knives, knife box advanced locking technology, multiple bearing seal, ensure the reliable operation of the equipment.

Recent Customers' Projects
More>>
Maintenance tips
1

The equipment should be lubricated according to requirements, and you should pay attention to the oil temperature, oil pressure, flow rate and other parameters.

2

When excessive noise or vibration occurs during the operation, the equipment should be shut down and inspected quickly.

3

Pay attention to the product quality and productivity, in order to solve the problem as soon as we find it.
Service Support
1000 engineers will always provide service for your project
More YUXI® machine you may interest
Contact us
Thank you for your interest in YUXI Heavy Industry. If you want to learn more about our equipment, Contact us Now to find out what we can do for you next project !
Copyright © 2004-2021 by yuxi-shredder Yuxi Machinery Equipment(zhengzhou) Co.,Ltd All rights reserved